Hotchya Marine Engineering Working on the Design for a Cable Laying Vessel
Hotchya Marine Engineering is continuing work on the working design for a cable laying vessel.
The cable laying vessel shall be used for laying, retrieving and repairing underwater fiber optic data cables, including in the Far North.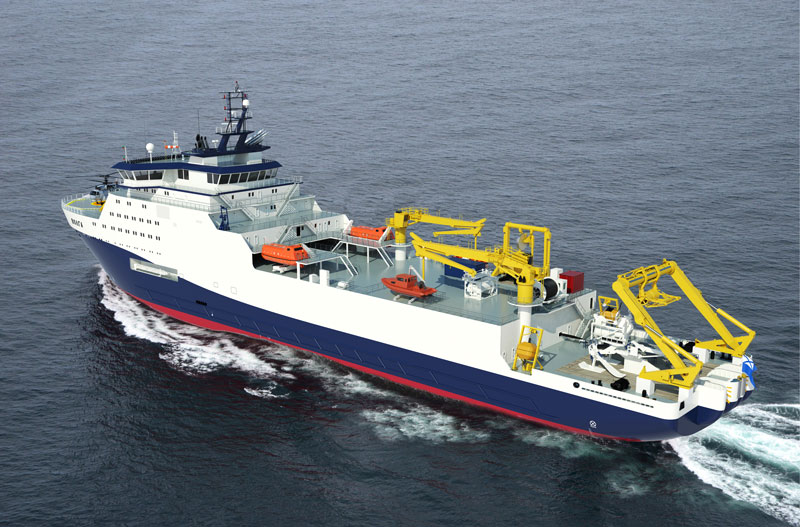 According to Hotchya Marine Engineering CEO Andrey Shimchuk, 'the cable laying vessel design developed by the design bureau of our company has some unique features. The new cable laying ship we have designed is one of its kind. The industrial exploration of remote areas in Russia's north and far east in recent years has created demand for modern communication systems and broadband communications means, thus before long it was clear that a new cable laying vessel was needed to lay new cables to those remote areas. I believe we have successfully completed the task of developing the design for a new cable laying vessel that we've been given. Currently project documentation and working drawings are being developed.'
The 15310 class cable laying vessel is 140 meters long and 19 meters wide, it has a draught of about 4 meters and endurance of about 50 days. Its deadweight is about 8 thousand tons and it can lay cable at a speed of 6 knots.
30.05.2012
HOTCHYA MARINE DESIGN WAS AWARDED THE GOLD MEDAL
The company Hotchya Marine Design was awarded the Gold medal and Diploma following the results of the contest Best Solutions in the Sphere of Shipbuilding and Civil Marine Equipment. This contest was held within the framework of the International Forum Marine Industry of Russia.
read more >
05.03.2012
HOTCHYA MARINE DESIGN DEVELOPS THE FUTURE
The Company Hotchya Marine Design took part in a meeting of the Work group dedicated to informational-analytical and scientific-technical support of activities under the Program "Commercial marine engineering development" for 2009–2016.
read more >
27.01.2012
HOTCHYA MARINE DESIGN WILL BUILD EXTREMELY QUIET VESSEL FOR RESOURCE STUDIES
Hotchya Marine Design has signed a contract with the Ministry of Industry and Trade to develop the basic technical requirements and conceptual design of the research vessel (RV) for natural resource studies in the open seas' areas (Western Region).
read more >