Hotchya Marine Engineering Takes Part in Neva-2015 International Exhibition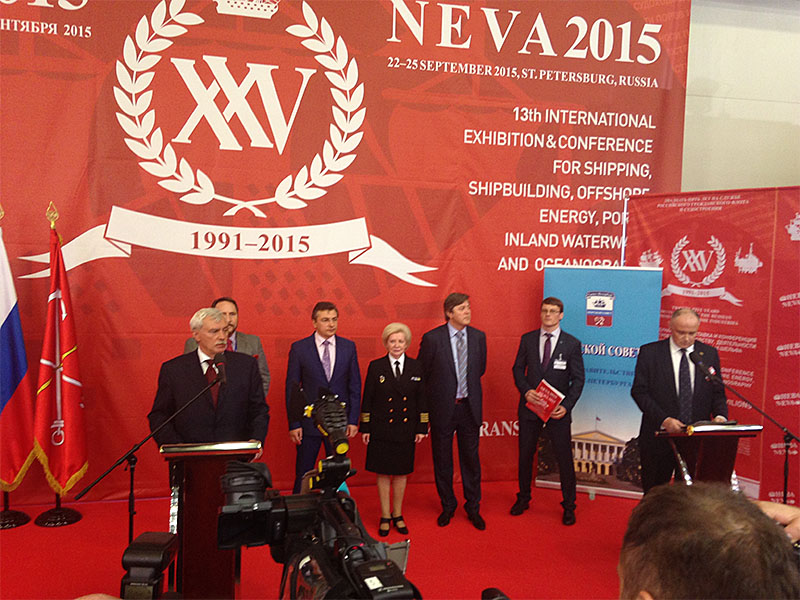 Hotchya Marine Engineering took part in the 13th International Maritime Exhibition Neva-2015 that was held in Saint Petersburg from Sep 22 through Sep 25.
The event covered the whole range of topics pertaining to the current state and development prospects of global ship building and maritime transport, exploration of mineral resources on the shelf and in deep water. Special attention was paid to the genesis of the modern methods and means for ensuring safety of maritime transport as well as equipment currently available for the automation of port operations.
At the exhibition, Hotchya Marine Engineering demonstrated a broad range of its design capabilities. The company's booth featured design concepts for research vessels, artic shelf oil exploration vessels and various types of harvesting and fishing vessels.
Specialists attending the exhibition took a special interest in a scale model of a cable laying vessel (design 15310) that the design bureau of Hotchya Marine Engineering had designed. The cable laying vessel is intended for laying, retrieving and repairing fiber optic cables in all conditions, including in the harsh conditions of the Far North.
'A number of meetings and negotiations with key customers and partners were held during the exhibition,' Hotchya Marine Engineering CEO Andrey Shumchuk said, talking about the exhibition. 'What was important for us to do at the exhibition was present our capabilities and the unique experience Hotchya Marine Engineer specialists have gained in implementing large-scale projects as well as to show off the unique designs our company has developed. Cooperation with ship building companies is one of the top priorities for our development.'
During the period of the exhibition, Hotchya Marine Engineer's booth was visited by delegations of the Ministry of Transport of the Russian Federation and the gubernatorial administration of Saint Petersburg as well as representatives of such companies as OSK, Gazflot, Transas, Gazprom Neft, LENMORNIIPROEKT, Marcon-West and others.
Neva exhibitions have been held since 1991 with the backing of the Ministry of Transport of the Russian Federation, the Russian Academy of Sciences, the government of Saint Petersburg and transport industry unions and associations.