Modernisation of large fishing freezer trawler completed Pulkovo Meridian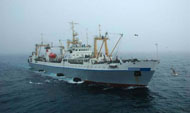 Our company has completed the modernisation of a large fishing freezer trawler (Project 1288). Hotchya Marine Design oversaw all the construction work during the project. 

The large freezer trawler is a 104.5 m long vessel, with the width of 16 m, and the draft of 6 m. Full displacement is up to 5715 tons. Maximum speed is 16 knots, cruising speed – 14 knots. Capacity of the two main engines is 7000 kW. Cruising capacity is 70 days. Crew – 96 people. 

The vessel of the project 1288 has been designed for bottom fishing and mid-water trawling, processing of raw food material into frozen food product, clean or pre-cleaned, recycling of inedible accidental catch and waste into fishmeal and inedible fat, storage of produced products, delivery of products to cargo vessels inside the fishing area or delivery to port. 
27.01.2012
HOTCHYA MARINE DESIGN WILL BUILD EXTREMELY QUIET VESSEL FOR RESOURCE STUDIES
Hotchya Marine Design has signed a contract with the Ministry of Industry and Trade to develop the basic technical requirements and conceptual design of the research vessel (RV) for natural resource studies in the open seas' areas (Western Region).
read more >
17.01.2012
LARGE FREEZER TRAWLER GENERAL TROSHEV DELIVERED TO CUSTOMER
Hotchya Marine Design has completed the construction and sea trials of a large freezer trawler, General Troshev, and delivered it to the customer.  
read more >
11.12.2011
MODERNISATION OF LARGE FISHING FREEZER TRAWLER COMPLETED PULKOVO MERIDIAN
Our company has completed the modernisation of a large fishing freezer trawler (Project 1288). Hotchya Marine Design oversaw all the construction work during the project. 
read more >