Hotchya Marine Engineering designs a medium freezer trawler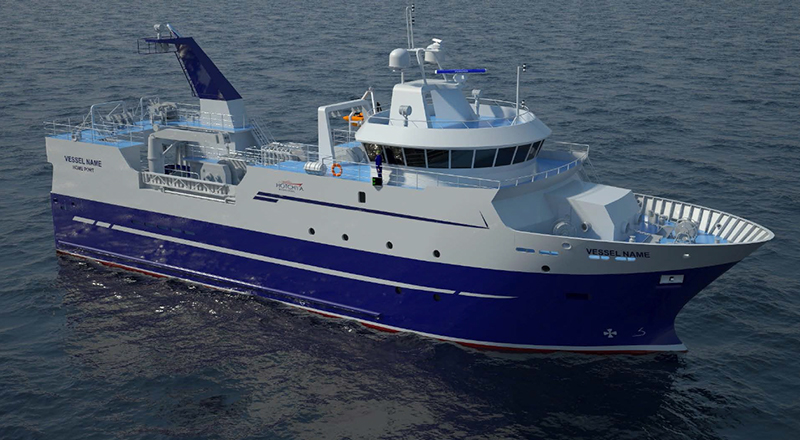 Hotchya Marine Engineering has completed the conceptual design of a medium fishing freezer trawler (HS 45T) for demersal and pelagic trawling, processing, freezing, storing, and transporting fish to port, as well as producing fish meal from fish waste. The vessel can reload product to transport freezers and receive fuel, supplies, and equipment at sea. The design effort was carried out within the framework of the "Development of Civil Marine Equipment in 2009-2016" federal special-purpose program.
The trawler is a steel-hull, all welded, single-propeller, one-deck vessel with an aft engine room and an insulated hold for transportation of fish. Length: 46.86 m, Width: 12.00 m, Speed: 12 knots, Endurance: 30 days, Fuel cruising range: 7,000 miles, Navigation: unrestricted.
As per the terms of reference, the trawl fishing gear has a stern trawler design with two separate warp winches for haulage of the pelagic and demersal trawls onto the net drum. The trawl will be hauled on the ramp. To enable operation of hydraulic-motor equipment, the vessel is equipped with a hydraulic station. According to the design, the stern features a trawler working deck for mounting balanced warp towing blocks, an auxiliary winch for trawl net control, a fishing crane, and a hook towing winch. Cranes and trawl winches will be located on the decks. The vessel has workplaces for 28 crew members. 
27.01.2012
HOTCHYA MARINE DESIGN WILL BUILD EXTREMELY QUIET VESSEL FOR RESOURCE STUDIES
Hotchya Marine Design has signed a contract with the Ministry of Industry and Trade to develop the basic technical requirements and conceptual design of the research vessel (RV) for natural resource studies in the open seas' areas (Western Region).
read more >
17.01.2012
LARGE FREEZER TRAWLER GENERAL TROSHEV DELIVERED TO CUSTOMER
Hotchya Marine Design has completed the construction and sea trials of a large freezer trawler, General Troshev, and delivered it to the customer.  
read more >
11.12.2011
MODERNISATION OF LARGE FISHING FREEZER TRAWLER COMPLETED PULKOVO MERIDIAN
Our company has completed the modernisation of a large fishing freezer trawler (Project 1288). Hotchya Marine Design oversaw all the construction work during the project. 
read more >