Hotchya Marine Engineering Supports Children's Sport
Hotchya Marine Engineering CEO received a letter of thanks from the Taekwondo Federation of the Odintsovsky District, the Moscow Region. In the letter, signed by the President of the Federation G.A.
Puchko, the Federation expresses heartfelt gratitude to the staff of Hotchya Marine Engineering for their contribution to and help with the organisation of an Open Taekwondo Tournament dedicated to International Day for Protection of Children.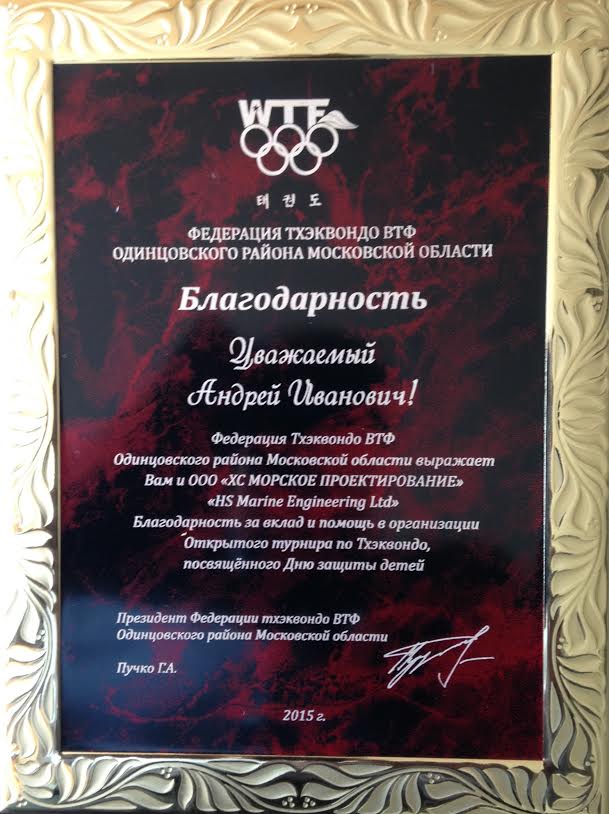 Specifically, the letter reads as follows, "The development of amateur and professional sports would be impossible today without the support of business. We would like to thank you for your contribution to the development of children's sport, promotion of Taekwondo and your contribution to the future of Russia."
Hotchya Marine Engineering follows the principles of socially responsible business conduct in all the regions where it operates. Hotchya Marine Engineering actively promotes sports and a healthy lifestyle among children and young people.
18.01.2016
HOTCHYA MARINE ENGINEERING DESIGNS MEDIUM FREEZER TRAWLER HS 65T
Within the framework of the "Development of Civil Marine Equipment in 2009-2016" federal special-purpose program, Hotchya Marine Engineering has completed the conceptual design of a medium fishing freezer trawler (HS 65T).
read more >
28.09.2015
HOTCHYA MARINE ENGINEERING TAKES PART IN NEVA-2015 INTERNATIONAL EXHIBITION
Hotchya Marine Engineering took part in the 13th International Maritime Exhibition Neva-2015 that was held in Saint Petersburg from Sep 22 through Sep 25.
read more >
04.09.2015
VISIT OUR BOOTH AT NEVA-2015 EXHIBITION!
Hotchya Marine Engineering is happy to invite you to visit to our booth at the 13th International Maritime Exhibition Neva 2015 to be held in Saint Petersburg on September 22-25, 2015 at the new Congress and Exhibition Complex EXPOFORUM.
read more >