Modernisation of large fishing freezer trawler completed Pulkovo Meridian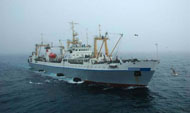 Our company has completed the modernisation of a large fishing freezer trawler (Project 1288). Hotchya Marine Design oversaw all the construction work during the project. 

The large freezer trawler is a 104.5 m long vessel, with the width of 16 m, and the draft of 6 m. Full displacement is up to 5715 tons. Maximum speed is 16 knots, cruising speed – 14 knots. Capacity of the two main engines is 7000 kW. Cruising capacity is 70 days. Crew – 96 people. 

The vessel of the project 1288 has been designed for bottom fishing and mid-water trawling, processing of raw food material into frozen food product, clean or pre-cleaned, recycling of inedible accidental catch and waste into fishmeal and inedible fat, storage of produced products, delivery of products to cargo vessels inside the fishing area or delivery to port. 
18.01.2016
HOTCHYA MARINE ENGINEERING DESIGNS MEDIUM FREEZER TRAWLER HS 65T
Within the framework of the "Development of Civil Marine Equipment in 2009-2016" federal special-purpose program, Hotchya Marine Engineering has completed the conceptual design of a medium fishing freezer trawler (HS 65T).
read more >
28.09.2015
HOTCHYA MARINE ENGINEERING TAKES PART IN NEVA-2015 INTERNATIONAL EXHIBITION
Hotchya Marine Engineering took part in the 13th International Maritime Exhibition Neva-2015 that was held in Saint Petersburg from Sep 22 through Sep 25.
read more >
04.09.2015
VISIT OUR BOOTH AT NEVA-2015 EXHIBITION!
Hotchya Marine Engineering is happy to invite you to visit to our booth at the 13th International Maritime Exhibition Neva 2015 to be held in Saint Petersburg on September 22-25, 2015 at the new Congress and Exhibition Complex EXPOFORUM.
read more >